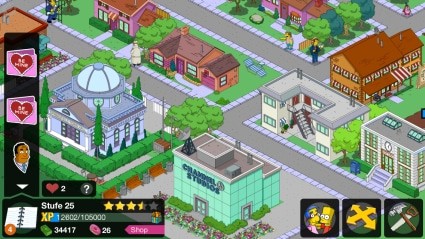 Simpsons Tapped Out wird romantisch
Electronic Arts hat dem iOS-Titel The Simpsons: Tapped Out ein Update spendiert, welches die Liebe nach Springfield bringt.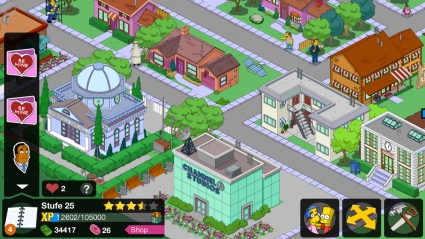 Changelog:
Love has come to Springfield! Send Valentines to your friends and collect Hearts to add a romantic atmosphere to your Springfield with limited time decorations. We've got new limited-time characters, quests, and more – check it out…
• New Buildings – Pick up some love handles a la mode at Phineas Q. Butterfat's, capitalize on insecure relationships at Howard's Flowers, and even lose some golf balls at Sir Putt-A-Lots.
• New Characters – Send Shauna around searching for young love, get Homer and Marge to snuggle in the Golf Castle, and send Valentines with Lisa.
• New Decorations – Sweeten up your Springfield with rose bushes, cherub topiaries, and the "I Choo-Choo-Choose You Train."
• New Quests – Join Bart on his quest for love. Will Bart and Shauna enjoy a blossoming romance, or will Bart be left sulking in his room?
• New Event – Visit your friends' towns, send Valentine's Day cards, and generate limited-time Heart currency.
Thanks for playing The Simpsons: Tapped Out. Don't miss new cloyingly sweet storylines – for a limited time only.
Folgt die-simpsons.de auf Twitter und verpasst keine News der Simpsons.
Facebook: Werde noch Heute ein Fan von die-simpsons.de www.maggied.de